International New Student Orientation (I-NSO)
Thursday, August 22 – Friday, August 23
OGS hosts a mandatory orientation program of information sessions and social events for all new undergraduate students entering Georgetown in F-1 or J-1 status in Fall 2019. Interactive sessions will focus on academic life, immigration regulations, health care, employment, and other topics critical to student success at Georgetown.
Students in F-1 and J-1 status (OGE exchange, transfer, GU-Q, and degree-seeking) must attend all required orientation sessions in order to remain in legal status. Students in F-1 and J-1 status are automatically registered for I-NSO and will incur a $50 international orientation fee regardless of whether or not they attend the optional events during the program.
On-Campus Housing & Move-In
New undergraduates, OGE exchanges, GU-Q and international transfer students living on campus must report for move-in on Thursday, August 22 between 12 and 4pm. Please consider this move-in time and date when making travel arrangements to arrive in Washington, DC no later than Thursday, August 22. More information and details about move-in will be available in summer 2019.
New International Student Checklists
Being organized and prepared before you leave home will make your arrival much easier! Below you will find a checklist of tasks to complete before your arrival at Georgetown. Remember you may have additional tasks for attending NSO. Undergraduate Deans and programs may require additional tasks to be completed so be sure to check your Georgetown email account and read all information you receive from Georgetown.
I-NSO Leaders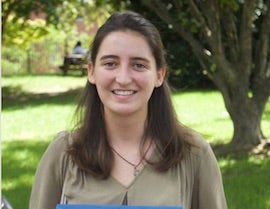 Luka Pauwelyn
Program: Science, Technology, and International Affairs, SFS
Home Country: Belgium
Luka Pauwelyn is a rising freshman in the School of Foreign Service (SFS), majoring in Science, Technology, and International Affairs. Luka calls Belgium her home; however, she also spent a significant amount of time in Switzerland, France, and North Carolina. In relation to her studies, Luka is passionate about humanitarian aid and global health. In Luka's free time, she enjoys working with kids, playing water polo, and volunteering!
Email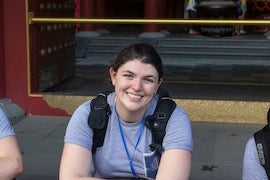 Sara Rotenberg
Program: Global Health, School of Nursing and Health Studies
Home Country: Canada
Sara Rotenberg is a proud Canadian and junior in the School of Nursing and Health Studies, majoring in Global Health. After studying in Singapore for two years, she decided to pursue her passions for global health and health policy at Georgetown. Outside of the classroom, Sara is involved with the Center for Social Justice's Advisory Board for Student Organizations, on the board of the Georgetown Transfer Council, and is a Fellow with the Georgetown Global Health Initiative where she conducts independent research on population policies. In her spare time, Sara is an avid traveler, cook, and skier.

Email