Upcoming Events
Fall 2019 Advising Appointments
Walk-ins are Monday, Tuesday, Thursday, and Friday from 1-3pm
Appointments are reserved for specific times with your dedicated IS Advisor to discuss complex situations (i.e., changing status, extensions, reduced courseload, etc.). F-1 Students should schedule an appointment with Ayako Yamada to receive a travel signature.
Walk-ins are first-come-first-served 10-15 minute consultations on brief student issues with the IS Advisor on duty (i.e., on-campus SSN forms). J-1 Students and Scholars may use this time to request travel signatures. OPT applications are not reviewed during walk-ins.
CPT, OPT, and AT: Application materials must be submitted by email to your program's dedicated IS Advisor. OGS does not accept paper copies during appointments and walk-ins.
Global Hoyas in Washington, DC
Global Hoya Represents International Students at Congressional Briefing
Life-saving Device Being Developed by International Grad Student with Heart, Lung Damage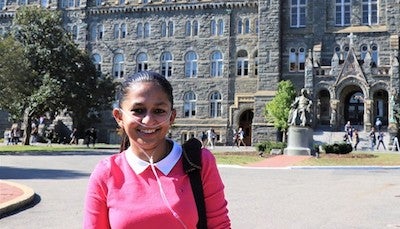 Georgetown International Students Help Free Wrongfully Convicted Prisoner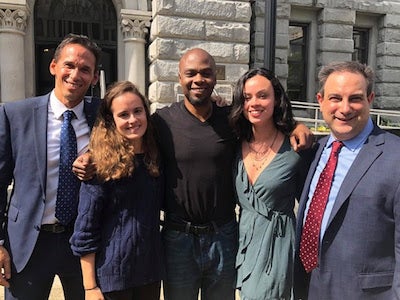 Videos & Resources
OGS Community Values
The Office of Global Services (OGS) is proud of Georgetown University's long history of welcoming people from around the world, of its tradition to care for each person according to his or her needs (cura personalis), and of its commitment to safeguard the dignity of all individuals.
International Student & Scholar Services cherishes the diversity of cultural and religious backgrounds and philosophical viewpoints that our international community brings to the University. Each international student and each international scholar is a valued and respected member of our community. Our office rededicates itself to serving and supporting the safety and well-being of all members of this community as they work toward expanding their knowledge and enhancing ours.
We uphold a vision of the United States of America that affirms justice and equality, and one which condemns all acts of hate, violence, and bias which aim to diminish the humanity of a group or an individual. We believe this country's founding principles endure and enlighten our discourse for all time. We will continue to work toward a world vision that values respect for all people and the talents they bring to our global society.
Archived 2018-2019 OGS F-1 & J-1 Student Newsletters